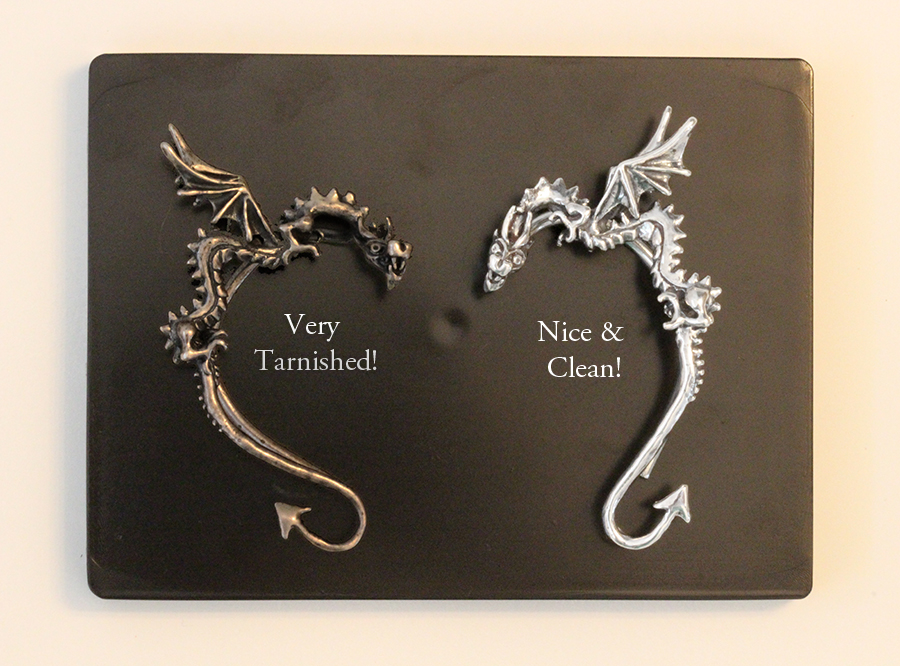 Why does jewelry tarnish?
Just as your favorite dress or jacket needs to be dry-cleaned, jewelry also needs to be cleaned. Over time, sterling silver will "tarnish," or patina. This is part of silver's natural beauty, and here at Marty Magic we take advantage of this process to give our jewelry depth and definition. In the studio we oxidize each piece so that the recessed areas are dark, and then polish the highlights. This antiquing process brings out the sculptural details of the design, and is a step that commercial jewelers skip.
Use a Silver Cream
If your piece becomes tarnished on the raised, highlighted areas, purchase a good quality silver CREAM. These are available in the cleaning aisle at most supermarkets and drug stores. Mrs. Wright's is a good brand but we think that most any silver CREAM will perform. Using a soft cloth, buff the highlights with a small amount of the cream. Rinse with warm water and, if necessary, use a soft tooth brush to get any residue out of the recessed areas. A Q-tip swab can be used if your piece is very intricate.
Avoid Liquid Cleaners
NEVER dip your piece in a LIQUID jewelry or anti-tarnish cleaner. These cleaners are often available beside the silver creams, and strip everything off of the piece, including the antiquing in the crevices. Worse yet, liquid cleaners remove the overall shine of the piece, and tend to turn the oxidized areas a "fuzzy" greyish-white. Many customers mistakenly do this and then come to me with their tails between their legs and heads bowed, asking for forgiveness. It's actually more work to repair this mistake than to polish the piece to begin with!
All that said, it is okay to dip chains (but only these!) in liquid cleaners.
Hints & Tips
Another way to polish a piece is with a rough cloth or a polishing puff. These work reasonably well, and once again, any residue must be washed off with warm water and a soft toothbrush before the piece can be worn again. My tip for general cleaning is to pour a splash Lemon Sudsy Ammonia into a glass. Plop your ring in and let it soak for a few minutes and then brush it gently with a soft toothbrush to remove the dirt. This won't remove actual tarnish, but it will clean the piece of accumulated oils and lotions and a good soaking can remove much of the scum accumulated behind a stone that may be inhibiting the stones sparkle and color. DO NOT put opals, tourquoise or porus stones into ammonia.