Marty displaying her Fantasy Jewelry, 1976
Our Business
Marty Magic is, and always has been, a cottage industry. I am proud that our store supports both my family and my employees, and I believe that keeping Marty Magic in-house (literally!) allows us to provide the highest level of customer service.
This year, 2017, marks my 39th year in business. During this this time, Marty Magic has grown exponentially and has taken many new directions. Early on, I only sold my jewelry at art festivals and fairs in the Silicon Valley region. As the tech industry grew, so did business (my thanks to all my geeky patrons)! On March 31st, 1995, my husband Art helped me enter the digital age by launching my first website, which has become a significant venue for sales. I have created an extensive and diverse line of jewelry and gathered a loyal following of collectors.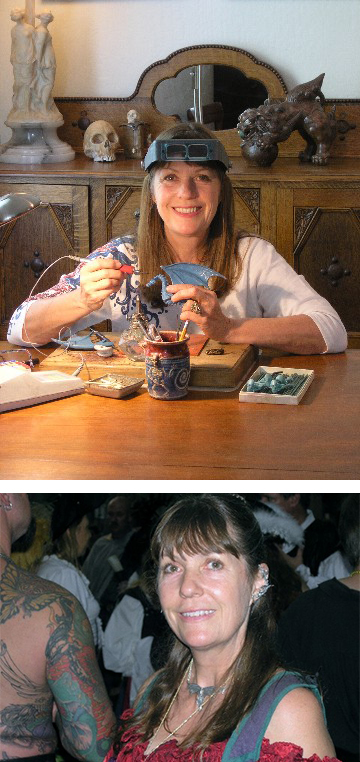 Our Jewelry
The jewelry and sculpture I design is created by the lost wax casting process. I personally sculpt each original in wax at my Santa Cruz studio. My designs are then cast into gold, sterling silver or bronze. Fantasy, fairy tales and the magic of nature significantly influence my work.
My father's work and my experiences as a traveler profoundly influence my designs. I grew up in Los Angeles and Santa Barbara. My father was head of the geology department at UCLA, and is Professor Emeritus at UC Santa Barbara. As the only child of a geologist, I traveled extensively with my parents when my father was doing research, mapping or lecturing abroad. I have lived in a chalet in Austria; in an adobe cottage at the edge of the Salton Sea, California; on a farm outside of Edinburgh; in a thatched cottage in Gilleleje, Denmark; and in Bogotá, Columbia. I continue to travel extensively and my find inspiration in the cultures and biodiversity of our planet.
I began making jewelry in high school assembling beaded earrings and unique copper enamel jewelry. I would take these pieces to school, pinned inside my notebook and sell them to my classmates. I have always had an entrepreneurial spirit. Later, I graduated with a BA in Art from University of Redlands. My focus was ceramics under the critical eye of Leon Moburg who also taught the introductory jewelry class. My early projects surprised us both and I was soon doing independent study. By the end of the year, Leon invited me to teach the following year's beginning jewelry class.
I was married to Scott Macklin for 13 years and my early works are signed as Marty Macklin. After I married Art Bobroskie 25 years ago, I changed my business name to Marty Magic to keep the initials MM.
Many Februarys, I attend the Tucson Gem and Mineral show and hand pick the gemstones that will inspire my work for the upcoming season. I love opals, both Mexican and Australian. Last year I had the occasion to purchase several stunning opals directly from mine owner Miguel Tamayo when visiting Todo Santos, Baja, Mexico. I continue to design one of a kind pieces around breathtaking opals.
My favorite avenues of marketing are still the art and craft fairs and Renaissance Festivals. I have had a shop at the Maryland Renaissance Festival for 32 years. Over many years I have built up a strong following of collectors who frequent these shows, validate and inspire me with ideas, compliments, sales and friendship.
I have a passion for what I do. I love the creative process, watching my pieces take form, and I enjoy interacting with customers both online and in person. Thank you for taking the time to visit the store, I hope your experience here is nothing less than magical!
I'm happy to announce that after a hiatus of some years, Scott Macklin is returning to the Art Fair circuit. Scott is my ex husband, good friend and father of our remarkable daughter Alisha who helps to manage the business as well as create designs for the Marty Magic line. I welcome Scott of Fantasy Jewelry partnering with Marty Magic Jewelry so that Alisha and I may spend more time in the studio designing. As shows are confirmed, I will post all of our show schedules online and note if Scott or I will be in attendance at a particular event.